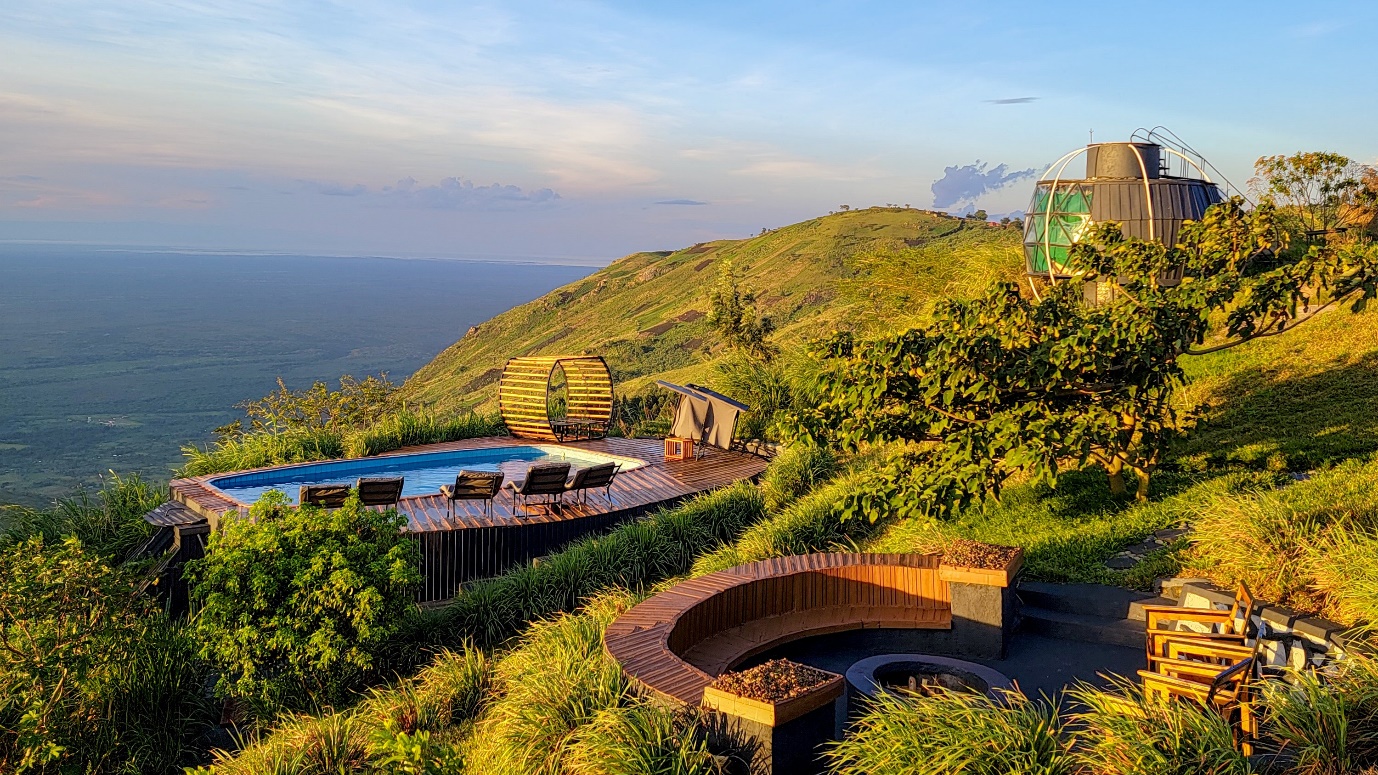 7 Incredible Honeymoon Lodgings in Fort Portal City-Uganda
About 300 kilometres South West of Uganda's capital, Kampala lies a small quaint city with a history to savour and beauty to lavish in. It's these qualities that recently earned Fort Portal the vaunted designation as Uganda's tourism city.
Historically a war zone between rival kingdoms Tooro and Bunyoro in the colonial times, its visitors are today welcomed by lash-green tea estates, chilly nights and scores of crater lakes. But the real attraction of this Ugandan city is in its serenity. It offers couples the kind of romantic bliss that only movie tales come close to capturing.
The double fortunes of being named Uganda's Tourism City and restrictions to foreign travel posed by the COVID-19 pandemic, have recently conspired to make Fort-Portal a top honeymoon destination for Ugandans. If you are wondering why, some of the activities attracting couples to this city include hiking, biking, golfing and bird watching. In the neighbourhood one can go gorilla trekking in Bwindi or even visit the famous Queen Elizabeth national park about 70 kilometers away in neighbouring Kasese District.
If you are want to stay in Uganda after your wedding, Fort Portal is your plan for a honeymoon destination. Here are 7 top venues to consider for accommodation and ambience in this beautiful city named after former British government diplomat, Sir Gerald Herbert Portal.
1. Njara Suites
Njara suites is located just over a kilometer outside Fort Portal City's administrative offices. It boasts of a small, homely quaint place with a flower garden. It especially suits couples that love a feel of home away from home. The general ambience is also created to give the couple a family-like setting with family suites, affordable accommodation, neat rooms, quietness and a shed for couples to revel in every moment of their marital bliss. The proximity to the city center allows you as a couple to visit Fort Portal's famous attractions like Amabere ga Nyinamwiru, the Gerald Portal Monument among other key tourist sites in Uganda's western countryside.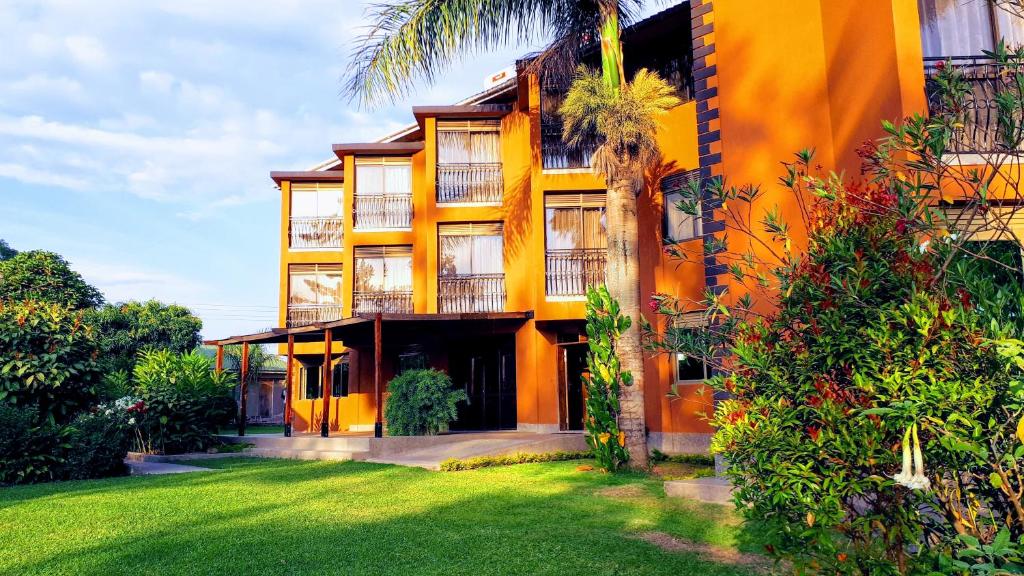 2. Ndali Lodge
One word to describe Ndali Lodge is tranquility. From its location on a hill to the devotion of its staff; the neatness of the rooms and the freshness of their meals, the lodge is for lovers to swoon. It offers grass-thatched cottages with a lakeside view accentuated by Uganda's signature natural trees and shrubs to allow a couple both the serenity and privacy needed for intimacy.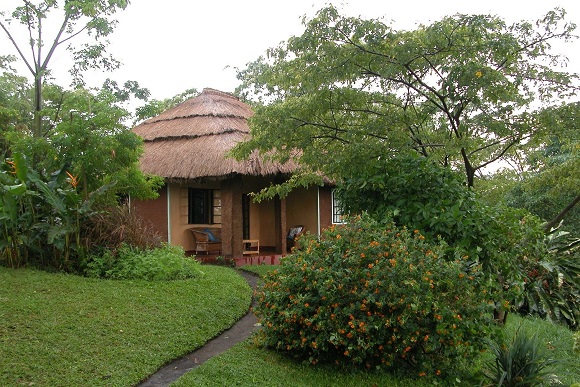 3. Kyaninga Lodge
Kyaninga is not only an architectural design marvel but specatular in ambiance; and meals; and customer service; and dazzling views! Kyaninga offers sight views around the crater from which the lodge gets its name. If you are the adventurous type, you could go kayaking on Kyaninga crater as a couple. Its mountainous surrounding is a hiker's dream too; basking in each other's love for a couple could simply mean taking walks around the lodge for the stunning view of the snow-capped Rwenzori Mountains famously called the Mountains of the moon, that spawn out of East Africa's famous rift valley shared by four countries. The sight of various bird species, common to Uganda's natural habitat, is one any couple would live to reminisce about. The crested crane (Uganda's national emblem) is very common in this area, and so are colobus monkeys among other attractions.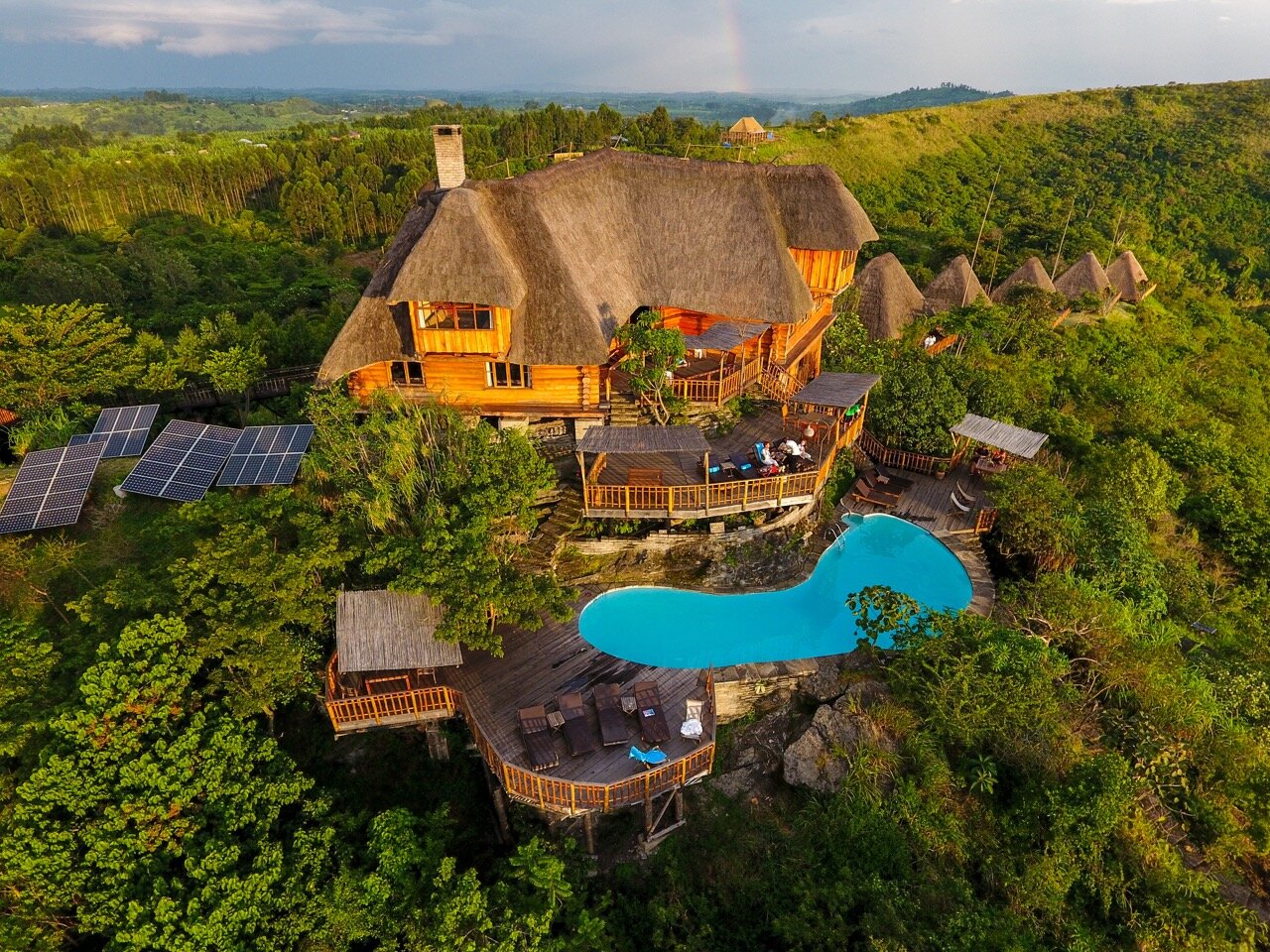 4. Kalya Courts Hotel
If you are a couple that wants the best of both worlds- fresh air and the quietness of the countryside; while at the same time enjoying contemporary hotel service, Kalya courts is for you. Located about 3 kilometres outside the Fort Portal city center towards Kasese (the home of Uganda's famous Rwenzori ranges), the hotel offers modern hotel service with spacious rooms, decent food, wi-fi connection and a spectacular view of the Toro Kingdom Palace. Kalya courts also has spacious gardens for couples to sit, eat and talk. For couples that want to go clubbing on their honeymoon, Kalya courts has you covered with its Friday and Saturday special club nights done the Ugandan way. By the way, for a couple that wouldn't mind having the reception and honeymoon in the same place, Kalya courts' gardens can accommodate many guests.

5. Aramaga Rift Valley Lodge
Do you love movies? Do glamour, luxury and privacy appeal to you? If yes, Aramaga Rift Valley Lodge is waiting for your call. Your honeymoon will be a movie-set, and we mean this literally! Aramaga Rift Valley lodge is one of the newest attractions in the new Tourism City and its biggest attraction is six pod-shaped rooms that draw their design inspiration from one of the famous James Bond Movies.
The pods are eco-friendly using solar energy and green-roof technology. With their 180° floor to ceiling windows, the pods offer splendid views of the majestic Rwenzori mountain ranges, the Semliki Wildlife Reserve and Lake Albert, among other amazing Ugandan views.
One caution for couples planning a honeymoon at Aramaga lodge in western Uganda, book early- even a year early if possible. There are only six pods which are almost always fully booked.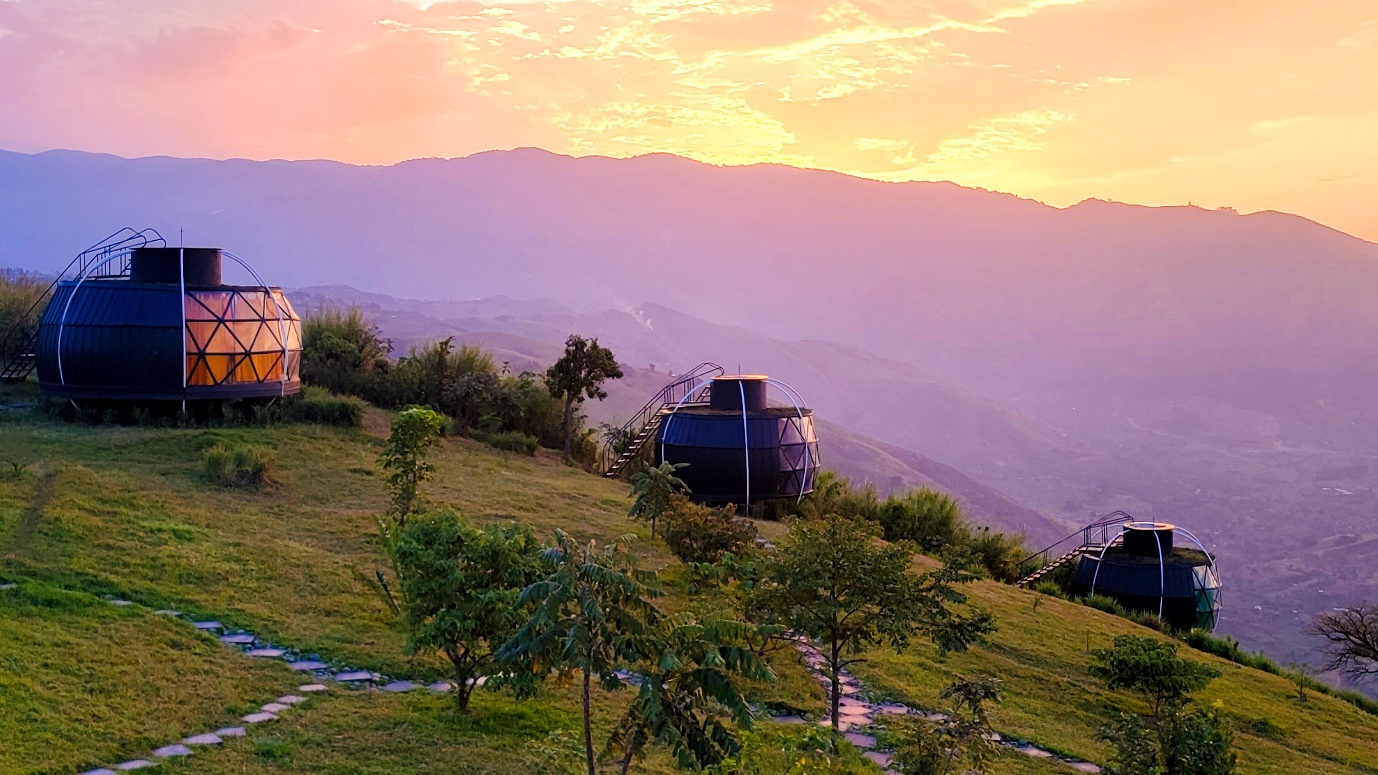 6. Mountains of the Moon Hotel
The oldest hotel in Fort Portal, Mountains of the Moon Hotel derives its name from the famous Rwenzori ranges dotting Tooro's mountainous landscape. If you are traditionalist in your hotel tastes, then this is your pick. Built in the old European style, Mountains of the Moon Hotel sits atop one of the highest hills in Fort Portal overlooking the tourism city.
Its furniture is of the old explorers' kind set in colonial times. The rooms have old traditional furnishing with African artwork hanging on most walls including a traditional fire place, while the reception is old school with a large foyer that sometimes doubles as a bar. In Uganda, this is where you go to have your honeymoon back in time.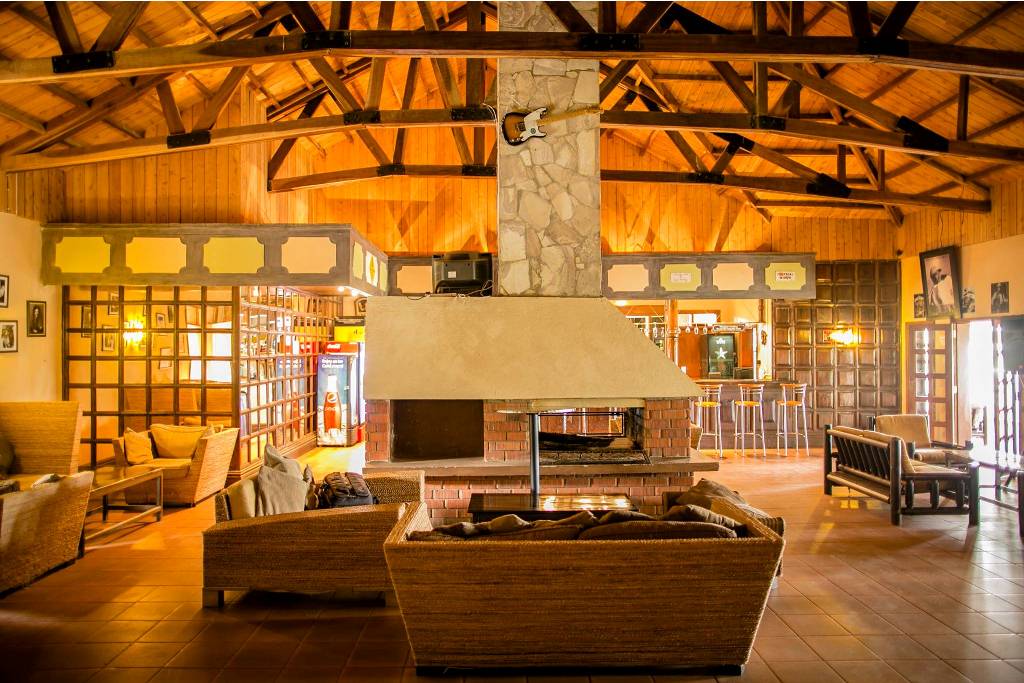 7. Nyaika Hotel:
If you are fitness freaks and do not want to miss a single workout even while on honeymoon then Nyaika Hotel is for you. Their amenities include a gym, swimming pool and wait for it…an aerobics class. Nyaika is located on Tooro road about 3 Kilometers from the city center. Perhaps the most architecturally imposing hotel in the city, it boasts fountains, cottages, gardens, spacious rooms, comfortable beds and a whole list of amenities on the wish-list of every couple's honeymoon.
It offers couples a special honeymoon package that combines accommodation, meals, safari trips around the city, game-park drives at Queen Elizabeth and a whole host of activities from which a couple can pick. With their motto 'Stay with us', Nyaika invites couples on honeymoon in Uganda to serenity with a touch of class.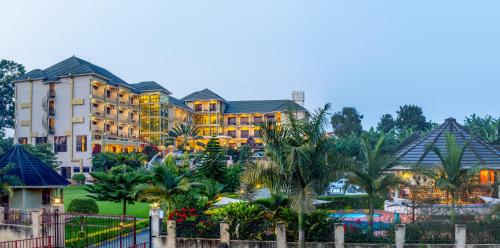 Join us next time as we explore more of Fort-Portal and the hotels that make it special. If you want advice on which lodging best suits your honeymoon preference, send us an email at planner@nyomplanet.com or call us on 0393 249515
Visit Uganda's number one wedding planners at www.nyomplanet.com